Welcome to our website.
For 4 generations, Hirose Family has concentrated on dyeing Edo Komon kimono and other related items.
It would not have been possible without generous and passionate support from everyone involved, and we are very grateful.
Hirose Dyeworks is committed to innovating and handing over this precious Japanese traditional culture Edo Komon for future generations to come.
HISTORY
| | |
| --- | --- |
| 1893 | First Generation Kanichi Hirose born in Gifu Prefecture, Japan |
| 1918 | Hirose Dyeworks set up in Meguro-ku, Tokyo |
| 1930 | Hirose Dyeworks moves to Nakaochiai, Shinjuku, Tokyo, where it is now. |
| 1950 | Started dyeing neckties |
| 1960 | "Double Shark" dyeing method, typical of Hirose Dyeworks, developed. |
| 1970 | Started dyeing kimono for Kabuki Actors, including Kataoka Nizaemon and Onoe Shoroku |
| 2006 | "Komon Hirose" brand established |
| 2011 | Stole brand "comment?" established |
| 2014 | Edo Komon lecture and demo at MAISON DES CANUT in Lyon, France. |
| 2014 | Exhibited at Premiere Vision Maison d'Exception in Paris. |
| 2018 | 100th Anniversaty Exhibition of Hirose Dyeworks held at EYE OF GYLE in Aoyama, Tokyo |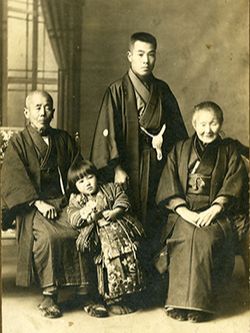 Hirose Kanichi second from right