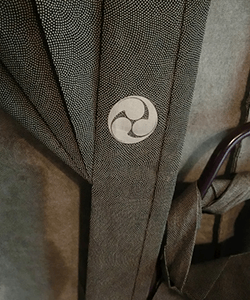 Edo Komon is a traditional Japanese hand-dyeing technique, originally deveoped for kimono worn by samurai and courtiers during Muromachi and Edo Period, around 15th to 17th century.
It is characterized by its delicate minimal pattern which cannot be seen from afar, invoking a sense of awe and wonder when looked at closely. In Edo Period, samurai would wear Edo Komon "kamishimo," sort of a kimono uniform, with their special clan mark dyed on it.
During Edo Period, general ban on luxurious way of dressing was issued by the government. Edo Komon was no exception. People of Edo loved fashion and would not give in to such law, having fun finding ways to express themselves. Thus they created outfits that looked plain from afar, but were full of beautifully detailed patterns when looked at closely. This asked for highly skillful artisans, and thus Edo Komon remains to this day, pursuit for styligh dye-work of minimal patterns never ceasing.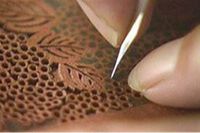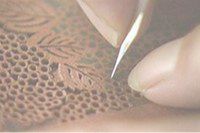 1. PAPER STENCILING
Intricate patterns are carved by hand on Japanese washi paper, fortified by persimmon tanning.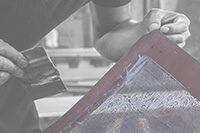 2. APPLYING PASTE
Paper stencil is placed on fabric and resist paste is applied, requiring full concentration.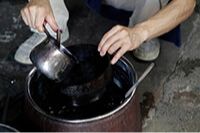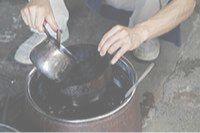 3. CREATING PASTE
Resist and coloring pastes are made from rice and rice bran. Mixing paste builds muscles.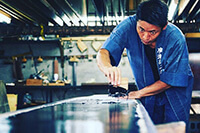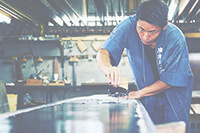 4. APPLYING BASE COLOR
Base color is applied on top of paste for background. Pasted area remains uncolored.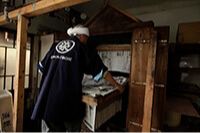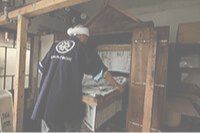 5. STEAMING
The colored fabric is then placed in a cypress steamer, so color settles in nice and even.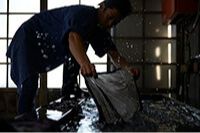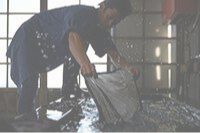 6. RINSING
Color and design stand out when rinsed thoroughly. Originally done in streams, even in winter.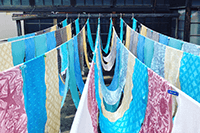 7. DRYING
Sun and wind gives the finishing touch. Watching various colors and designs are joy to the eyes.